Husco Partners with Hyster to Develop Single Platform for Multiple Machine Models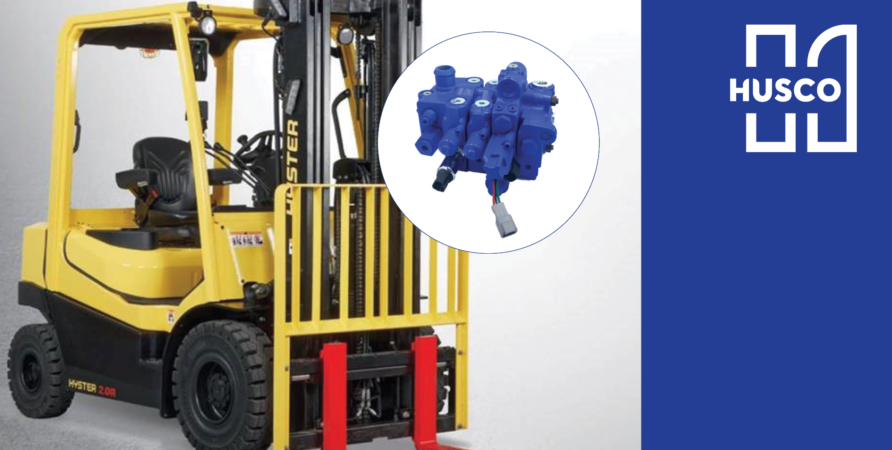 Modular Electro-Hydraulic Valve Platform Streamlines Design, Service, and Manufacturing 
Hyster-Yale Group is a leading global provider of forklift trucks and material handling equipment. The company offers a comprehensive range of equipment, from the largest container handlers and reach stackers, to nearly every type and size of industrial forklift truck, to special warehousing equipment. Hyster products are known to combine innovative design, industrial-strength components, state-of-the-art manufacturing, and testing.
As Hyster introduced electro-hydraulic features on its equipment in the past 15 years, the valve architecture evolved from a solid manual platform to upwards of 4 architectures within the same system. In 2018, Hyster set out to develop a modular valve design that could be used across the entire truck line. This would simplify system design and streamline their global manufacturing processes.
Husco specializes in high performance hydraulic and electro-mechanical components and has served as a supplier to Hyster for more than 25 years. Husco Off-Highway engineers worked alongside the Hyster team to develop the valve platform from the ground up.
"The new valve development is a clean look, a fresh sheet of paper," said Chikka Rao, Chief Engineer – Hydraulic Systems for Hyster-Yale Group. "With Husco, we developed a single valve platform that is compatible with all of our features and work functions. We can mix and match different valve sections and components, and we can scale up from basic architecture to a premium set of architecture features."
Simplified Design
The valve was designed to meet the base configuration targets but have the flexibility to add and customize to match the premium truck configurations. Husco reviewed the system as a whole and integrated components into the main valve, like lowering compensation and operator presence, to reduce machine complexity and improve overall operator experience.
"Today's advanced technology requires more engine types, components, and features. All of these things have to be packaged inside what is essentially the same space we had in equipment 40 years ago," Rao said. "Combining and integrating valves is always a good thing."
The new platform includes one valve block with valve ports that are all the same. It is highly customizable and allows for multiple valve configurations to be paired with each truck model without over burdening lower featured options.
The commonality of components:
Reduces the number of connections within a system, minimizing potential leak points
Streamlines the assembly line so that a few valves are the only difference between a basic equipment model and a premium plus model
Leads to faster and more reliable service because technicians only need to learn one architecture
A single platform improves the experience of the equipment operator, featuring superior pressure compensation for precision control, energy efficiency, and fuel efficiency. The ability to limit the number of unique components and keep the design simple has improved speed to market and Husco's ability to manufacture globally, in alignment with Hyster's vision.
Reduced Lead Times
The modular approach to design and commonality in components makes Hyster more nimble, able to react more quickly to changes in market demand and drives their supply chain lead time to be as low as possible.
"The quicker we can get a product into the field – from speed to market, to sale, to production, to delivery – the better off we are in the marketplace," said Brandon Boothe, Senior Global Sourcing Manager for Hyster-Yale Group. "By having manufacturing redundancies around the world that support our facilities around the world, it shortens our supply chain lead time and the time it takes to get product to the end user."
Flexibility and speed in the supply chain for Hyster will heavily depend on the strength of their supplier partners, according to Boothe. Hyster is working to align from the top down within each organization they work with so that everyone is moving toward the same goal.
The Husco engineering team engaged early on in Hyster's project development to get a complete understanding of their program goals in regard to machine controllability, packaging constraints, commercial target, quality metrics and manufacturing strategy. This allowed Husco to develop the modular valve product, implement improved manufacturing processes, and partner up with its key suppliers in a similar manner.
"What has set Husco apart for us is the top-to-top relationship that has gotten stronger," Boothe said. "Their accomplishments in supply chain resiliency, driving redundancy within manufacturing operations, and now with a modularity approach to development, are very important to us and are large reasons why the relationship continues to grow within our business."
About Hyster-Yale Group
Hyster-Yale Group, Inc., designs, engineers, manufactures, sells and services a comprehensive line of lift trucks and aftermarket parts marketed globally primarily under the Hyster® and Yale® brand names. Hyster-Yale Group is a wholly owned subsidiary of Hyster-Yale Materials
Handling, Inc. (NYSE:HY). Hyster-Yale Materials Handling, Inc. and its subsidiaries, headquartered in Cleveland, Ohio, employ approximately 7,600 people world-wide.
About Husco
Husco is a privately-owned company specializing in high performance hydraulic and electro-mechanical components for the automotive and off-highway markets. Based in Waukesha, WI with operations in the United States, India, China, and the United Kingdom, Husco's global footprint aligns with OEM manufacturing plants from across the globe. Husco's global engineering teams are continuously working to develop innovative product solutions that meet the evolving system requirements of on-highway vehicles and off-highway equipment including advancements in fuel efficiency, electrification, and automation. Product applications include implement controls, transmission controls, steering systems, brake controls, electric drive disconnect systems and thermal management systems.
Media Contact:
Andreas Pack
Andreas.Pack@husco.com
262-513-4314