Husco Will Showcase New Technologies in Controls, Solenoids and Valves at CONEXPO-CON/AGG 2023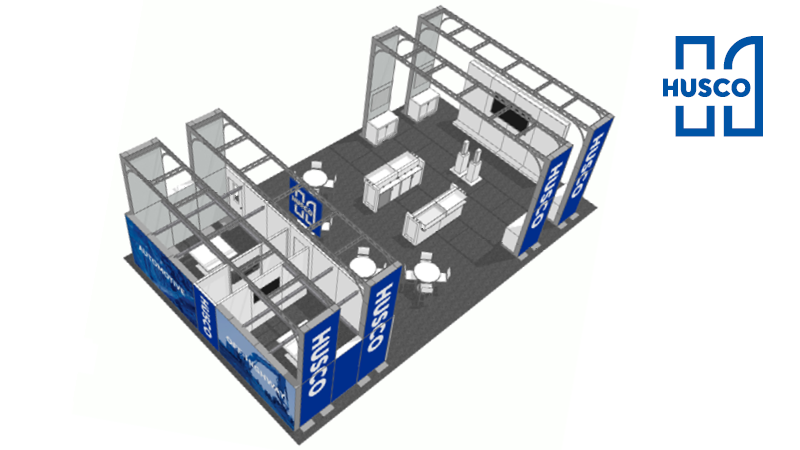 March 7, 2023, Waukesha, Wis. – Husco, a privately-owned company specializing in hydraulic and electro-mechanical control systems for the automotive and off-highway industries, announced today it be exhibiting at the CONEXPO-CON/AGG 2023 show in Las Vegas as part of the International Fluid Power Exposition (IFPE), from March 14-18.
Husco's theme for the trade show is "Enabling Your Next Step to Zero," which emphasizes the company's commitment to helping customers on their journey towards zero emissions, carbon neutrality, reducing waste and losses, alternative power sources, energy recouperation or power management. In addition to their product exhibits, two Husco engineers are presenting about advanced electro-hydraulic control of mobile machines.
"CONEXPO and IFPE coming together to create one of the largest industry trade shows in the world gives us a unique opportunity to showcase our more than 75 years of expertise designing and manufacturing components for automotive and off-highway equipment," said James Mundschau, Husco's Vice President of Sales & Marketing. "We pride ourselves on collaborative customer relationships that are driven by three essential values: intelligent risk-taking, high performance, and practical innovation."
Husco will be showcasing and presenting on a variety of new technologies at CONEXPO-CON/AGG 2023 this year, including:
• Controller Family: New range of low, medium, and high I/O controllers and accompanying advanced hydraulic control software
• High-Pressure Solenoids: Completely new family of cartridge combining the best of Husco's Off-Highway design with Husco Automotive's legendary quality
• Brand new E-Steer and EH-Steer hardware with working demo
• Flexible MX and SBX platforms to demonstrate how the systems can develop complete, energy optimized hydraulic systems
Husco engineers Austin Sowinski and Tim Opperwall will give a presentation moderated by Eric Lanke, President and CEO of the National Fluid Power Association. The presentation, "Why 1 mA Matters: Advanced Electro-Hydraulic Control of Mobile Machines," will walk through the challenges in enabling the controls transformation through a real-world system example and proposes how future hydraulic control architectures may look. The presentation will take place on Wednesday, March 15 from 1:00 PM – 1:45 PM in IFPE South Hall second level room S230. Click here for more details.
The Husco exhibit will be located in the IFPE – South Hall 2nd Level — S81115. Also, follow Husco on Facebook, LinkedIn and Twitter to stay up-to-date on all new product releases and company news.
About Husco
Husco is a privately-owned company specializing in high performance hydraulic and electro-mechanical components for the automotive and off-highway markets. Based in Waukesha, WI with operations in the United States, India, China, and the United Kingdom, Husco's global footprint aligns with OEM manufacturing plants across the globe. Husco's global engineering teams are continuously working to develop innovative product solutions that meet the evolving system requirements of on-highway vehicles and off-highway equipment including advancements in fuel efficiency, electrification, and automation. Product applications include implement controls, transmission controls, steering systems, brake controls, electric drive disconnect systems and thermal management systems. To learn more, visit www.husco.com.