Husco Unlocks Digital Excavator Control with New Exacto System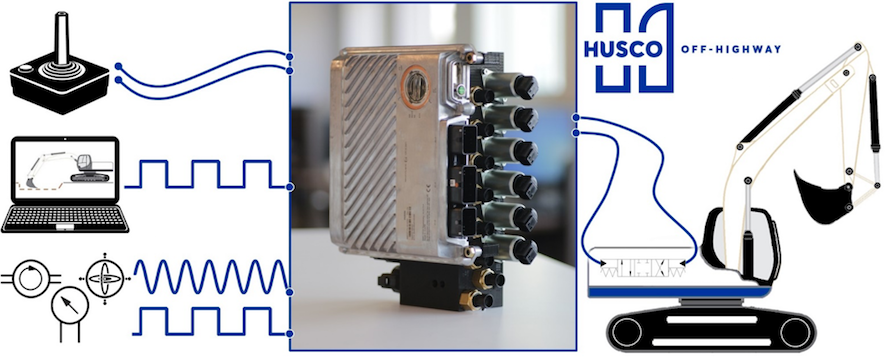 Original equipment manufacturers (OEMs) are focused on increasing jobsite productivity by combining precise hydraulic controls, GPS guidance and machine automation. But accomplishing this is not easy. Excavators are complex pieces of heavy machinery, and their pilot-operated hydraulic systems have held machine control and guidance experts back from achieving the digital multi-function performance they want. Until now.
Husco recently announced the launch of the Exacto system, a turnkey digital machine control system that makes it easy to implement digital commands on pilot operated systems. Exacto leverages Husco's 60-year history of industry-leading hydraulic hardware, software, controllers and automotive quality electronic pressure reducing valves (EPRVs) with a deep understanding of excavator controls and architecture. Exacto's plug-and-play system has multiple modes of operation, built-in safety controls, and integrated controller and sensor connections to allow digital control of an excavator's functions.
OEMs and machine control companies can now achieve control functions such as:
Auto-grade and Auto-dig
Pre-programmed truck loading
Geo-fencing
Digital restriction on speed and height
Connection with Building Information Modeling (BIM) interfaces
Artificial Intelligence and Machine Learning
Husco built its excavator system acumen by tuning and testing over 100 different machines for precision, harmony and efficiency. The Husco EPRV provides best-in-class hysteresis, durability, precision, and responsiveness. Exacto combines this hardware and software expertise to help the construction industry take machine performance into the digital age.