Husco Named Finalist for Corporate Citizen of the Year by BizTimes Milwaukee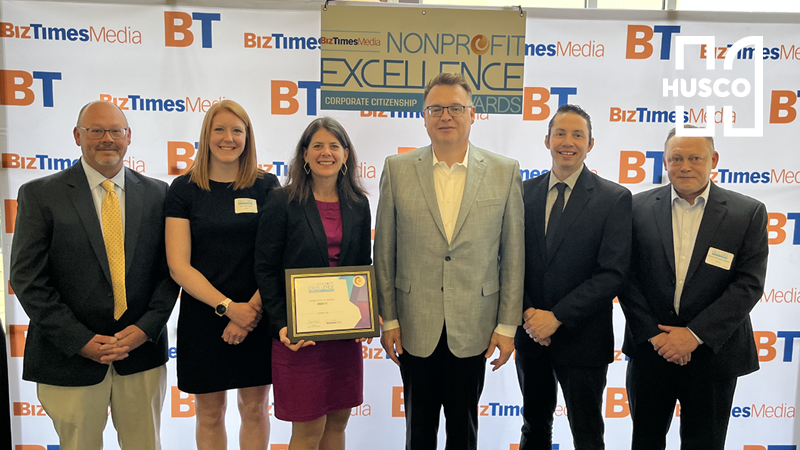 This morning, BizTimes Milwaukee named Husco a finalist for their Corporate Citizen of the Year. Husco was selected because of their commitment to community outreach and philanthropic efforts, specifically related to their support of Aug Prep and the United Way.
Husco is unique in the way that we focus our giving. Although we support many different organizations, over 95% of what we donate is focused on K-12 education worldwide. Our investment in Aug Prep is our single largest investment, but we also provide significant donations to colleges and universities along with scholarships for exceptional minority students and the children of Husco employees. We involve our employees by providing through volunteering opportunities such as mentoring graduates, helping in the classroom, volunteering at clubs/events, and so much more. While our support of Aug Prep goes so much deeper than donations, Husco, the Ramirez Foundation, and personal contributions from our leaders totaled almost $2.6 million in 2021!
The United Way is also a strong partner of Husco. Husco holds internal promotion and fundraising events year-round. Some examples of fundraising activities include putt-putt tournaments, paper airplane contests, chili cookoff, ice cream sundae bar, nacho bar, and raffles. Husco also partners with United Way to host local speaker events that generate awareness for United Way's community impact. Each year Husco sets a goal of over 300 employee volunteer hours for United Way, with the bulk of volunteering occurs between September-October during the Seasons of Caring. Husco surpassed that goal in 2021 and is on-pace for more than 500 volunteer hours this year. Each November, Husco hosts a week-long silent auction and pledge week, where employees are encouraged to donate. Any donations to United Way are 100% matched by Husco. In total, Husco raised over $900,000 for the United Way last year and will likely exceed that number this year.
Husco firmly believes in supporting its surrounding communities through various methods including providing financial assistance to a large and diverse group of nonprofits. At Husco, volunteerism and philanthropy are simply part of our culture. Husco believes in leading by example which is why our leadership team is extremely active in the community. Thirty-five Husco leaders donate their time through leadership roles at 68 organizations including the United Way, Discovery World, Family Services of Waukesha, Waukesha Manufacturing Alliance, Waukesha County Technical College, Waukesha Workforce Development Board, and the Waukesha County Business Alliance. To make it easy for employees to get involved, Husco brings volunteering and fundraising opportunities to them. Husco partners with local organizations to bring opportunity to its campus in Waukesha. It is common for entire teams to take advantage of these opportunities and use volunteerism and fundraising as a team building activity. These efforts resulted in more than 1,400 hours of volunteered time by Husco employees in 2021. To promote giving, Husco matches 100% of the donations by employees to approved charities. This allows employees to give to the charities that matter most to them and are most enthusiastic about, driving additional participation.
The BizTimes Milwaukee Corporate Citizen of the Year Award was announced this morning at the annual Nonprofit Excellence Awards breakfast. The award is given to a for-profit organization in recognition of its impact to a single or multiple nonprofit organizations through financial contributions collective efforts to promote, encourage and organize fundraising efforts and company-sponsored programs and/or events engaging employees to participate in volunteerism.
Other finalists included Catalyst Construction, Ellenbecker Investment Group, and Northwestern Mutual. Catalyst Construction won the award for 2022.
November 4, 2022