CEO Austin Ramirez Attends the Signing of USMCA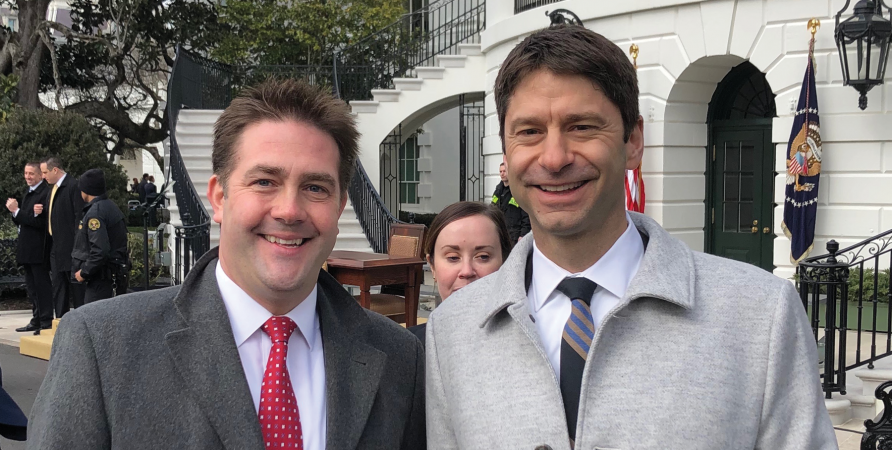 Husco CEO Austin Ramirez was proud to attend the signing of the United States-Mexico-Canada Agreement on Jan. 29, in Washington, D.C., alongside members of the Association of Equipment Manufacturers. The USMCA will help equipment manufacturers grow in the U.S., compete globally, and support millions of family-sustaining jobs across the country. Equipment manufacturers support 1.5 million jobs and contribute $188 billion each year in the U.S. and Canada.
"President Trump and Congress have delivered a free trade agreement that works for equipment manufacturers, farmers, and working families across the country," said Dennis Slater, president of AEM in a statement. "We thank President Trump, Vice President Pence, House Speaker Pelosi, and Senate Majority Leader McConnell for their leadership and for putting policy ahead of politics to get this landmark deal across the finish line."
Austin is pictured at the signing with Kip Eideberg, Senior Vice President of Government & Industry Relations for AEM. AEM worked with both the Trump Administration and Congress to ensure passage of the trade agreement by activating equipment manufacturing workers and supporters, and reaching members of Congress with a steady stream of pro-USMCA letters, calls, and meetings. AEM also hosted the Honorable Mike Pence, Vice President of the United States, at an equipment manufacturing facility earlier this year to build support for the trade agreement, and ran a national public education campaign on the various benefits of USMCA. AEM is a member of the 600 association and business-member strong USMCA Coalition.